Culture
Archive
NFL players let their cause do the walking with My Cause My Cleats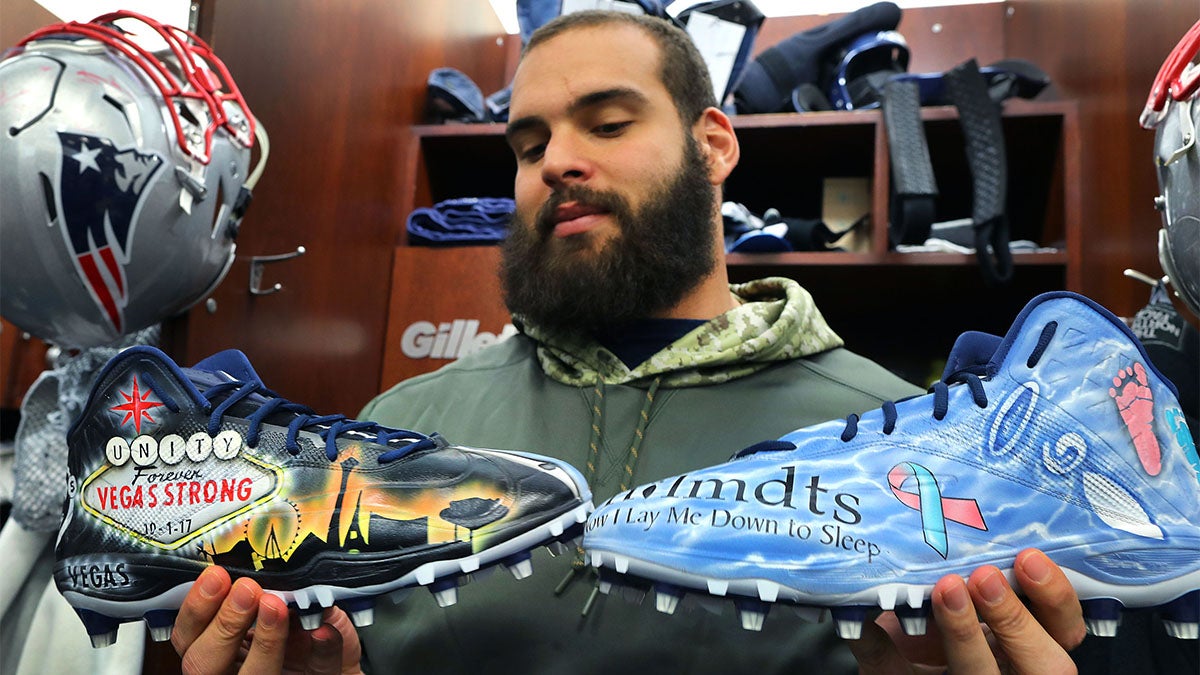 Many players in the National Football League have passions that extend beyond the white lines on Sundays.
As part of the NFL's My Cause My Cleats campaign, more than 800 players across the league are showcasing custom cleats in support of causes and charities. These issues include sex trafficking prevention, disease research and youth wellness.


Each NFL team is designating a home game between Weeks 13-15 (Nov. 29-Dec. 17) for which players can wear custom cleats. Those cleats will be available for purchase on the NFL Auction website, and all proceeds go toward supporting the philanthropic organization of his choice.
The NFL kicked off the campaign with "Unboxing Day" on Nov. 27. On that date, players around the league were able to showcase their cause and the cleats they will be wearing, using the hashtag #mycausemycleats.
For many, their causes hit very close to home.
Running back Sony Michel, the New England Patriots' 2018 first-round draft pick, is using his platform to bring awareness for disaster relief efforts in Haiti. Natural disasters have torn apart the country in recent years. In 2010, a 7.0 magnitude earthquake ravaged the area, killing thousands and impacting millions. Hurricane Matthew in 2016 brought even more destruction. In October 2018, a 5.9 magnitude earthquake hit the country.
More than ever, Michel said the Haitian people need help.
"My cause that I will be wearing my cleats for is to represent the earthquake in Haiti," said Michel. "I chose this cause because I am Haitian. Especially having family members in Haiti dealing with this tragedy, it was important for me to bring this to light."
The NFL also announced a series called Impact & Influence that will be available on the NFL Network, social media and the NFL website. This series will focus on the social and racial equality issues NFL players have been highlighting.
For example, Houston Texans linebacker Whitney Mercilus started the WithMerci Foundation. The philanthropic organization "provides advocate services and support to families of children with disabilities and special needs," and has teamed with organizations for different disabilities, such as autism and cerebral palsy, over the years.
Using his platform to help others is very important to Mercilus. As a kid who moved to the United States from Haiti, he knew it was his responsibility to help others. One of the organizations he has helped directly is the Easter Seals, who have served the disability community in the Houston area for years.
"Easter seals does a great job providing physical therapy, education, day care services, camp services," said Mercilus on the NFL's Impact and Influence digital short. "They do a great job of helping kids find confidence within themselves. That's part of our core values at the WithMerci Foundation, to really help and improve the lives of each individual."
Eli Manning on why he supports @TackleKidsCancr. #MyCauseMyCleats pic.twitter.com/oyWh8GJrkk

— New York Giants (@Giants) November 29, 2018
#MyCauseMyCleats in support of safer schools with @makeourschoolssafe & @safeschoolsforalex to bring light and awareness to the situation by finding better school safety solutions. To learn more about school safety visit https://t.co/wloxf64j7N and https://t.co/JzYCwOlnED pic.twitter.com/NcgMZ9I11E

— Allen Hurns (@A1hurns) November 28, 2018
"It impacts a lot of people, not only in this community, but around the world."

This Sunday, Tom Brady plays for @bestbuddies. #MyCauseMyCleats@nflauction: https://t.co/SA7A0fwCLv pic.twitter.com/9tUVFKusUM

— New England Patriots (@Patriots) November 30, 2018
"The philanthropic passions of NFL players come to life in incredible ways all year long," NFL Commissioner Roger Goodell told the Associated Press. "We are proud to expand our efforts to highlight the extraordinary impact of NFL players and teams in communities across the country."
The remainder of the NFL season will continue to highlight players' passions for community service. Beginning in Week 14, the league will recognize 32 players for their accomplishments on and off the field as their team's representative for the Walter Payton Man of the Year award, presented by Nationwide.
For more examples of the causes NFL players are supporting with their custom cleats, follow the #mycausemycleats hashtag on social media.
Ross Andrews is a senior journalism student at Arizona State University