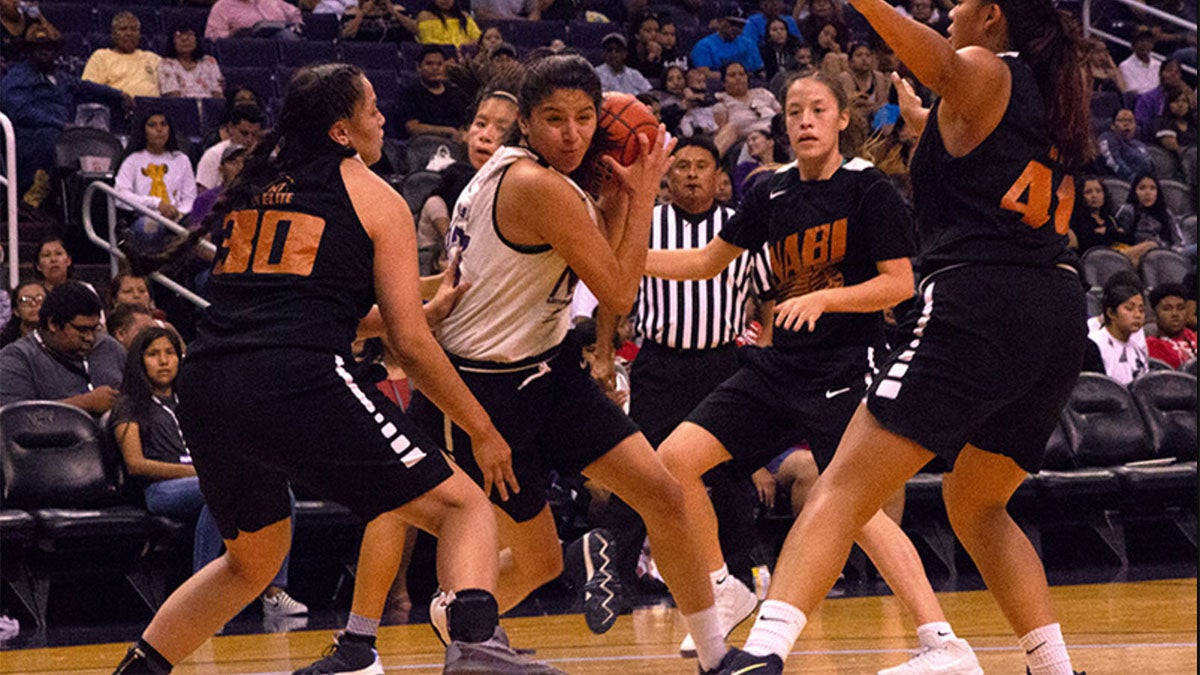 In honor of Native American Heritage Month, GlobalSport Matters will showcase the Native American athletic experience.
As Samantha Quigley tears down another rebound, she sees more than a basketball. In her hands is something beyond an object that she can dribble around defenders and put through a hoop with ease.
It's a ticket to a better life.
"Basketball is like the only key to go a long way if you're a native," said Quigley, the starting forward for the Navajo Nation Elite. "Basketball taught me a lot and it can help me get off the reservation."
She's one of the hundreds of Native American youth who played in this year's Native American Basketball Invitational (NABI).
Founded in 2003, the NABI Foundation invites teams from all over the country to compete in the five-day event. The program provides players with more than a few games of basketball. Throughout the week, seminars are scheduled to offer lessons in the importance of healthy living and higher education.
Finding a Cause
Mark West's playing days were over. It was 2002, and the NBA journeyman was focusing on life after basketball.
One day, friend Scott Podleski told West he needed to take a trip to watch the finals of the state championship to see something special: one of basketball's best kept secrets. West entered the gym and was amazed at what he saw: an electrifying, speed-of-light rendition of the game played by Native Americans, known as "rez rall."
"I had no idea Native American basketball was so big in Arizona," said West, who is originally from Virginia. "It was amazing. We have all these very good basketball players who weren't represented in Division I, II or III."
West, 57, still had still had a strong relationship with the team he played eight of his 17 seasons with, the Phoenix Suns, where he serves as vice president of player relations. He and Podleski leveraged that relationship to launch the NABI Foundation, which the Phoenix Suns and Mercury both sponsor. The tournament finals are even played at Talking Stick Resort Arena.
On July 14, the Navajo Nation Elite won the girls Division I championship. Quigley, 17, was named Most Valuable Player.
The Savage Storm, from Florida, beat the team CMD from Fort McDowell in the final of the Division I boys championship.
A better purpose
But West and the other founders always envisioned that NABI would be about more than basketball.
Since the tournament's conception, NABI has offered more that $250,000 in scholarship opportunities to native basketball players.
Education data is difficult to collect on sovereign tribal lands but a 2017 study by the Postsecondary National Policy Institute, a nonprofit funded by Bill and Melinda Gates, found that just 10 percent of Native Americans attain a bachelor's degree. significantly below the national average. And according to the U.S. Census, more than a quarter of Native Americans live in poverty.
"When we first went to tribes and asked them what they thought about a national basketball tournament, some of them said, 'Yeah, and maybe we could finally get a player in the NBA.' That may be the ultimate goal," West said. "But the main dream is we want them to get an education."
During the week of the tournament, participants attend a college and career fair and education summits, one of which is led by three-time NBA champion A.C. Green.
Living the dream
Brad Greene helped put on Junior NABI, which is a part of the program that focuses on preparing middle-schoolers for high school. Greene, 20, now plays basketball at the University of California Irvine. He credits NABI for helping him experience life beyond the reservation.
The 6-foot-10 mountain of a man, from the mountains of Lone Pine, California, grew up loving baseball. But as he grew, Greene realized that basketball was his best chance of getting out of the small town of 2,000 people.
"When I started basketball it was a big change," Greene said. "I had to learn things quickly to catch up. Playing in tournaments like NABI helped me with that and helped me earn an opportunity to play college ball."
Basketball opened up a world that a kid from the Paiute-Shoshone reservation never felt possible.
"Sports are the reason I'm in college," Greene said. "I wouldn't have been able to pay for a four-year university without my basketball scholarship. Being able to express myself through sports has helped me a lot."
Located in Southern California, UC Irvine has more than 25,000 students and is regarded by U.S. News and The New York Times as a top public university in the United States.
Last year, Greene took a trip with his team to South Korea.
And although he's helping kids polish their skills for the next level, his experiences have taught him that there's more to life than making the high school team.
"So for a lot of native youth, not a lot end up going to college. Graduating high school is a challenge," Greene said. "We just want to make sure we have the education to progress as a people and just develop ourselves and help those around them."
Building bridges
Like Greene, players come from all over the country to go up against the best competition. But it's also the education, scholarships and friendships that help attract such a big field.
Steve Craft brought a team in all the way from Alaska.
"This in my 10th year. I like the program," Craft said. "It gives a good experience for the boys to come down here for Alaska. … We have a boy on our team who's in the continental United States for the first time."
Craft, who paced the sideline at Ak-Chin Indian Community Recreation Center in a pair of flip flops that he finally had a chance to wear, coached the Alaskan boys to an NABI championship in 2013. Back home, a gym is really the only place his players can compete, and because they are all spread out across the giant state, they have to travel great distances just to practice together. Finding a team to scrimmage is even more difficult. NABI gives the boys the competition they crave.
"We only get to play in a few tournaments a year," Craft said. "Our team played in Hawaii, in a really competitive island tournament, but NABI is the only other tournament that's close to it."
Alaska's first matchup at NABI 2018 was against the AZ Warriors, one of the Valley's best team. Both regularly participate in the tournament, and over the years, despite being separated by more than 3,000 miles, have forged a bond.
"There's a lot of good blood between teams out here," Robertson said. "That's what I appreciate most about NABI. It brings all these teams together. This is the only time we get to see a team from Alaska and other states, so it's good to build a good relationship with them."
After NABI, the two teams are going to California for a basketball camp.
A better future
Johnston's AZ Warriors, an interurban native team, have won NABI twice. Many of his past players have also turned out to be accomplished students. Last year, six former AZ Warriors played college basketball at four-year universities.
"I think it says a lot about our program that we can help these kids figure what they want to do and help them decide what school to go to," Johnston said.
Quigley also wants to parlay her basketball skills into an education. She still has one more year of high school and one more year of NABI, but her goal is to play California State University, Long Beach.
And find that ticket to a better life.
Related Articles