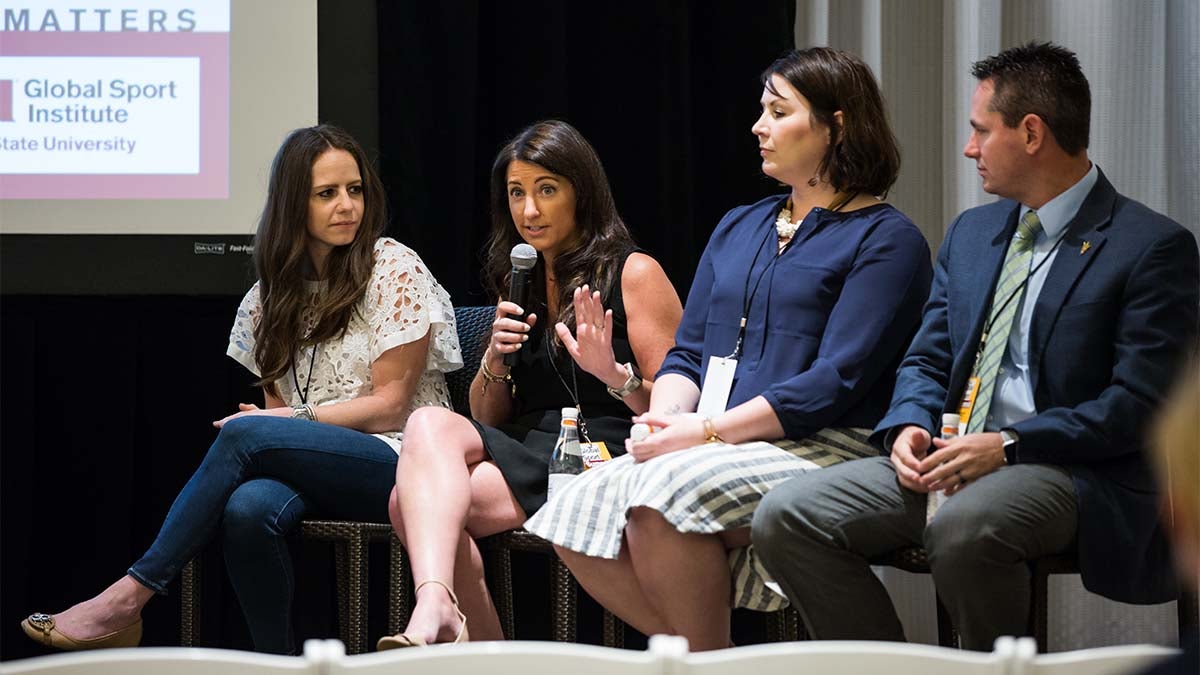 So you want to work in sports?


"Be specific," said Katy Young Staudt, managing director at Ventura Partners Inc.— one of four panelists on the "So You Want to Work in Sports?" discussion at the annual Global Sport Summit in Phoenix.
"If you come to us and say 'I want to work for the Phoenix Suns.' Well, what do you want to do? Do you want to mop the floor? I mean that's working in sports, right? You're in an arena; you're with basketball players around you," Young Staudt said.
Young Staudt, who also serves on the board of directors for the College Football Assistance Fund, emphasized the worst thing one could say during an interview was "I want to work in sports; I love sports."
After graduating with a business administration degree from the University of Tulsa, Young Staudt began her career in sports by accident while working at an advertising agency in 2004.
"Hated the ad agency business," Young Staudt said. "I didn't understand that my degree was not going to get me on the top account. I'm pushing papers, doing copies, putting things back financially. What did I do to get my degree and do this? I've got this great marketing degree, and so I started randomly spamming my resume and applying online."
While she was living in Dallas with her uncle he connected her to Bob Beaudine, the president of a sports/entertainment executive search firm that had done marketing for the NBA.
After meeting with Beaudine for three hours, he offered her a position as an office assistant.
"I started working there and I was there eight years, and I learned everything I know from Bob Beaudine," Young Staudt said. "I've been able to shape who I am because of that circumstance; I had a great mentor, so if you are looking to get in sports, you have to get a great mentor."
Young Staudt transformed her dream into reality by creating her own luck. If she could to go back and find an ideal way to break in she said: "Go tell people what you want to do. I don't think you could sit there and look at jobs on the computer."
"My passion isn't necessarily just because I love sports," said Lacy Freeman, recreation programmer for the City of Mesa Youth Sports in Arizona. "I love that community sports and youth sports is vital for change. It can truly change peoples lives in a matter of crossing the finish line or watching a kindergartener playing basketball for the first time and see them come back in high school years later."
Freeman's 15 years of professional experience has spanned from sports and recreation through minor league soccer teams to an internship with the U.S. Olympic Committee and currently is an adjunct professor in the College of Community Resources and Development at Arizona State University. If she were to go back and do it again, she said to "remember life is an interview."
Whether you are in class, volunteering or interning your appearance is vital to help grow your network.
"How you look, how you speak to people, your network is growing," Freeman said. "I try to remind my students every time they come to class, and I'll always tell them I have a guest speaker coming from the Phoenix Suns, ASU athletics, trying to let them understand that this is great networking."
Scott Nelson, the senior associate athletics director of Sun Devil Athletics and executive director of the Sun Devil Club, bounced around the country working as the director of development at Ohio State University and assistant director of the Wooden Athletic Fund at the University of California, Los Angeles.
"I was told really early in my career, actually by a donor while I was working with at UCLA, that you work those grunt jobs in your 20s to make the relationships in your 30s to make your money in your 40s," said Nelson.
Moving around from state-to-state brought him great benefits despite not knowing anyone.
"It's not always about the end goal," said Nelson. "We're always working toward the end goal but realize that it's really about the path and the experiences that you pick up along the way."
From an entrepreneurial standpoint, Brooke Campbell, vice president of marketing & brand strategy for the Phoenix Suns said there's more to it than just "handing out your business card."
"When you are in an entrepreneurial, start-up or even a minor league setting you are wearing so many different hats that you are really understanding how all of the departments work together," said Campbell. "How all of those folks at the wheels kind of work together to that common goal."
Whether a person is planning on going into the sports marketing side, sports media or youth sports, the important thing to remember it revolves around sports.
Wanting to work in sports started out with a passion that grew into a love for the sport.
"I like it because I have an opportunity to make a difference," said Nelson. "Right now, we have 600-plus student-athletes at Arizona State University, and I know as a result of my roles and positively impacting the lives of those student-athletes we have passionate fans, supporters, donors that I work with on a daily basis.
"I get to positively impact their spirits with their university something that they are passionate about," he said.
Edith Noriega is a junior journalism student at Arizona State University