Business
Culture
What happens to Florida's greyhounds now that the sport is banned?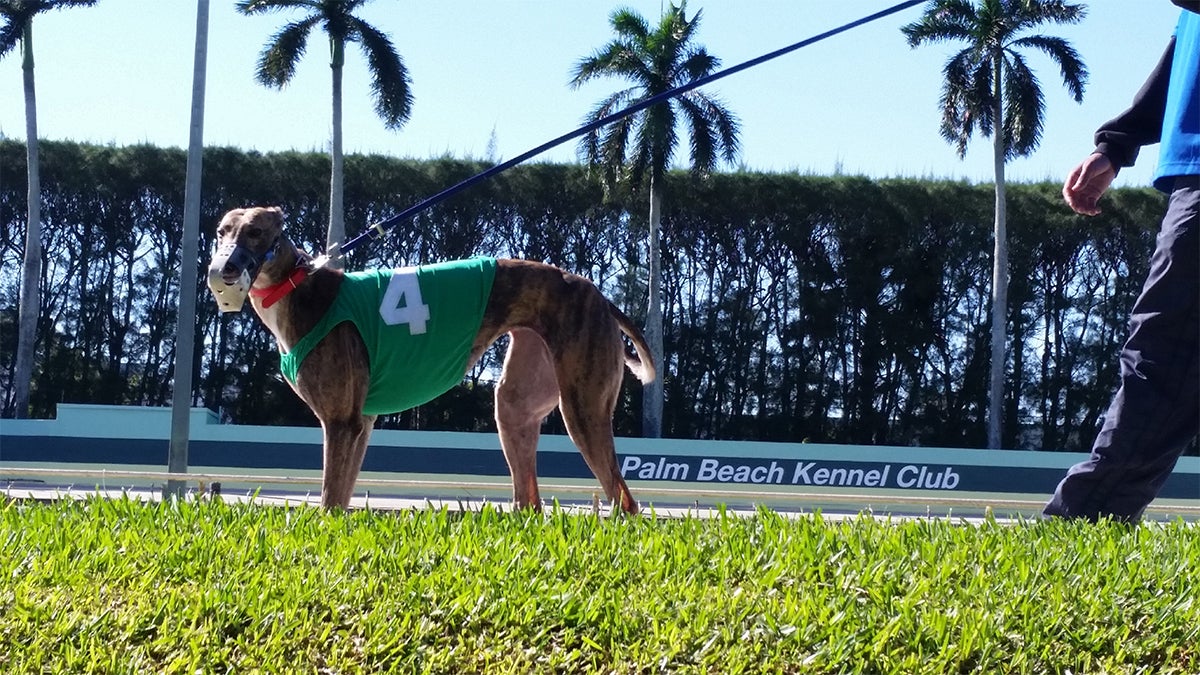 The state of Florida is the most recent to ban dog racing. And when the ban goes into effect by 2021, Florida will be the 41st state to enact one.
Florida's policy change will lead to the closure of more than half of the active greyhound racing tracks in the country, leading to an overlooked question: What happens to the dogs?

On the surface, the ban was a step against animal cruelty. However, the constitutional amendment did not include provisions regarding the care or future of the animals, leaving relocation and retirement efforts to local and national adoption groups.
At the time of the vote, more than 6,000 dogs were racing at Florida tracks. All of the dogs, young and old, will need to be rehomed. However, the massive flood of dogs overwhelming the adoption marketplace that was once feared has not materialized — yet.
"All groups around the country have had this bubble of applications," said John Parker, chairman of Southeastern Greyhound Adoption. "There was no big release of greyhounds all at once because they are still being retired in the normal process. There are waiting lists of applicants (to adopt)."
Tracks that did not have dogs on site just did not open for the regular season after the ban was voted on. Others will start to retire dogs after fall race cards, closing the tracks  by the 2021 deadline. Some tracks have had adoption kennels on the property for dogs who are being retired.
Groups such as Greyhound Pets of America and Prison Greyhounds opposed the ban because of concerns surrounding dog relocation and human job loss. Instead, they supported responsible racing and regulations as a solution.
"If the dogs are not treated well, how will they race on the track?" Terry Lohrman of Greyhound Pets of America told the Indianapolis Star.  "They love to run and chase and were bred for hundreds of years to be hunting dogs. That's what they do."
The ASPCA holds a counter position.  Listing the number of dogs killed due to lack of ability, age or injury, the group supported the ban proposal, helping to turn out a significant number of votes against racing.
Breeders continue to produce the racing greyhounds, but at a lower rate. However, with fewer tracks needing dogs, some are abandoned. According to Grey2K USA, puppies disappear from records, showing lower litter numbers to match the lower demand for racing dogs.
Those employed by the industry seemed to be forgotten in the vote as well. Trainers, kennel workers and track workers are losing jobs.
"Most trainers will have a difficult time," Jennifer Newcome, chairman of the Committee to Support Greyhounds told USA Today. "A lot are third-generation trainers and have been in the business since they were born. These people did not pursue a college education."
Some could relocate, along with the dogs, to states where dog racing is legal, but many will be left behind. Alabama, Arkansas, Iowa, Texas and West Virginia will still have active tracks. And dog racing is legal in Connecticut, Kansas, Oregon and Wisconsin, although there are no active tracks in those states.
Although many groups did not back the Florida ban, organizations and adoption coordinators are working hand-in-hand to provide the smoothest and safest relocation of the greyhounds. Lohrman explained those wanting to adopt must read material on the dogs. This helps to ensure that they are not going from a knowledgeable trainer to a home that does not provide an adequate environment.
Ellie Simpson is a senior sports journalism student at Arizona State University.