Court's gambling ruling puts NCAA at crossroads of injury information, privacy acts
Wendell Barnhouse | Tuesday, Aug. 21, 2018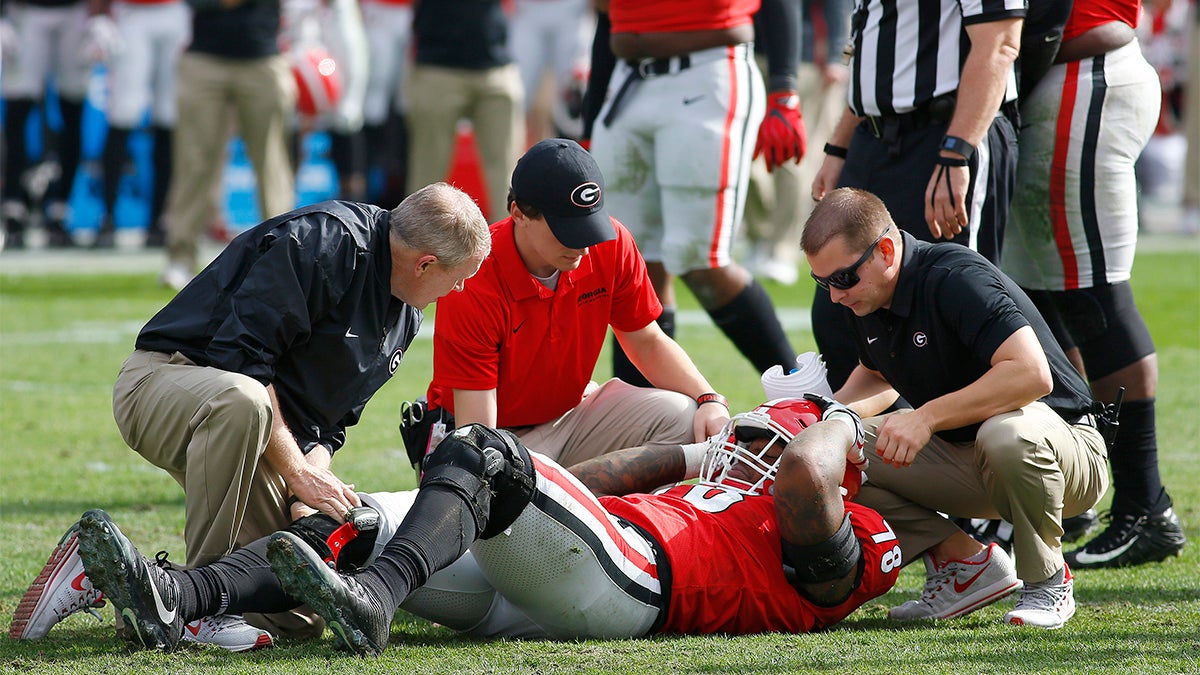 College football coaches are control freaks. That might seem a generalization, but the evidence is stacked in favor of the prosecution.
Whether it's worrying about spies watching practice before the big game, keeping track of which high school stars rivals are recruiting or keeping up to 100 staffers breaking down every movement of every snap in every game film, coaches are famous — or infamous — for exerting influence and control over every conceivable part of their program.
Example No. 1: After last season's national championship, Alabama coach Nick Saban had to hire six new assistants. Replacing more than half of his on-field staff is far from a haphazard affair for the Process King: He maintains an updated list of active college coaches. He explains he tracks "who are the best people developing at every position out there regardless of what level they are coaching in terms of their ability to coach players, teach players, have success in leadership roles, whether it's offensive coordinator, defensive coordinator, whatever it might be. And who are the best recruiters."
Example No. 2: When Bill Snyder was building a winning program at Kansas State, which had the worst program in the country before he took over, he dictated that at every team meal, there would be a single pat of butter at each place setting. Why? Snyder wanted to make sure he was controlling caloric intake. A vat of butter posed too much temptation to voracious offensive linemen.
But thanks to the Supreme Court's ruling in May that each state can decide whether to allow legal sports gambling, college football coaches may have to give up weekly secrets they have previously guarded like nuclear launch codes. Gambling on college football will likely mean that either the NCAA or the individual conferences will be compelled to provide weekly injury reports.
With the ruling only three months old and each state at various stages of deciding their gambling laws, clarity is lacking on college sports gambling. No one knows what kind of impact the decision will have and when that impact will be felt.
"We've talked about this at our commissioners' meetings a couple of weeks ago, and it's kind of a, well, what if and what if, and is this going to change or not," Atlantic Coast Conference commissioner John Swofford said. "I think we're going to have to see how it plays out."
"The NFL has their reporting, but they have some sign-offs because they are employees. Our student-athletes are not employees. They are students. Therefore, you have HIPAA and FERPA, so that's where we have to get the attorneys to give us advice." - West Virginia athletic director Shane Lyons
West Virginia athletic director Shane Lyons, the incoming chair of the Division I football oversight committee, said there have been discussions over the past two months at the national level.
However, with sports books establishing legal betting lines, oddsmakers are going to want all the information they can cull. Of course, illegal betting on college sports has been taking place for years with those running the operations getting injury info through myriad contacts. Legalized gambling will likely require more transparency in terms of injuries.
The NFL has had a long-standing policy requiring teams to disclose injuries. The teams are required to report a player's non-specific injury (ankle, knee, shoulder, etc.) and a non-specific availability status — probable (75-percent chance of playing), questionable (50-50), doubtful (a 25-percent chance of playing) or out. The NFL guidelines on injury reports direct the information include a "reasonable degree of specificity" that would be meaningful.
The veracity of the weekly reports, however, is often considered "doubtful." New England Patriots coach Bill Belichick is known for listing dozens of players; quarterback Tom Brady is often listed as probable if he's healthy and not listed at all if he has an injury.
The NFL Players Association contract with the league allows teams to discuss injuries. That's the big difference between pro and college football.
"We're looking for legal counsel to give more advice on what we can do," Lyons said during the Big 12 football media days in mid-July. "The NFL has their reporting, but they have some sign-offs because they are employees. Our student-athletes are not employees. They are students. Therefore, you have HIPAA and FERPA, so that's where we have to get the attorneys to give us advice."
HIPAA is the Health Insurance Portability and Accountability Act, a federal law that provides medical privacy. FERPA is the Family Education Rights and Privacy Act, a federal law that protects the privacy of student records. Both of those laws are considerable hurdles for the NCAA to clear in order for it to publicize names on an injury report.
Southeastern Conference commissioner Greg Sankey suggested a possible workaround would be a weekly availability report.
"It's clear that the nature of any so-called injury report around college sports will have very different dynamics than are present at the professional level," said Sankey, who doesn't expect any decisions on injury reports before this season. "FERPA and HIPAA requirements, academic suspensions, other team or athletics department-imposed suspensions and NCAA eligibility issues make something more like an availability report relevant for discussion."
"The reason we need to do that is, probably with the exception of the home field, the availability of personnel is critical to people who are interested in gambling legally or illegally." - Big Ten Conference commissioner Jim Delany
At its spring meetings, the Big Ten Conference requested the NCAA football oversight committee explore the possibility of the NCAA crafting injury report guidelines for the entire sport.
"The reason we need to do that is, probably with the exception of the home field, the availability of personnel is critical to people who are interested in gambling legally or illegally," said Jim Delany, the Big Ten's commissioner for 30 years and widely regarded as one of college sports' elder spokesmen. "Therefore, when players are unavailable, we should know that, if they're probably or likely, I don't have the model code, but I do think it's something that we should do and probably should have done it before, but certainly should do it now."
Big 12 commissioner Bob Bowlsby, Lyons' predecessor on the football oversight committee, agrees something will be done regarding injury reports, but it's too soon to make any predictions.
"My sense is that there's going to be a hue and cry for that to happen," Bowlsby said. "As long as we don't get too far into the specifics of what the injury is and what kind of medication they may be taking and what the duration is and those kinds of things, but some sort of simple system may work."
If there will be a hue and cry for an NCAA injury report policy, it will have to shout louder than the coaches who are opposed.
"I'd probably use the Bill Belichick method. Everybody is questionable, including the coaching staff," TCU coach Gary Patterson said during Big 12 media days.
"You've got one federal law that says you're not allowed to reveal someone's medical information," said Washington State coach Mike Leach, who earned a Juris Doctor from Pepperdine University School of Law. "Then you've got another law that says we have gambling, so we want to know all about their injuries. … So, I'm not going to reveal injuries, even if I'm qualified to until I'm forced. And they might force me. I doubt it. But they might, and if they do, then I'll try to figure out a way around it."
Northwestern coach Pat Fitzgerald, surprisingly, didn't a pull a groin muscle straddling the fence.
"We have an injury report at Northwestern that we've done for a number of years," he said. "I've been accused of sometimes being honest and sometimes being less than honest. If we move forward to where we have to have a fully transparent conference-wide or national one, I'd have no problem with that, as long as we adhere to it. There needs to be accountability. If there's not accountability to it, then I'll do whatever I have to do to protect our players, first and foremost, and protect our program second, in full disclosure of transparency.''
Is there such a thing as non-accountable accountability?
"Me reporting injuries … I'll be glad to do it," Saban told CBSSports.com this spring. "But I don't think anybody has a right to know, if you want to know the truth about it."
And what about Bill Snyder's position on the topic.
"Sharing information about injuries?" the 78-year-old said. "They're not going to make me put out an injury report. My concern always has been, and always will be, the well-being of the youngsters. If I promote that this youngster has just come off of a knee injury and he gets back on the field, do I want people taking shots at his knee? Of course not. Why put him in that position? That's always been my stance."
Snyder's steadfast stance — and that of his fellow coaches who don't want to divulge their players' status — may soon face the challenge of ignoring or breaking an NCAA or conference rule.
Wendell Barnhouse started his career as a sportswriter at 18 and spent the next four decades in newspapers writing and editing. From 2008-2015 he was the website correspondent for the Big 12 Conference producing written and video content. He has spent the last three years freelancing, most recently covering college basketball for The Athletic.
Related Articles
New Jersey doubled down on sports betting in July, wagering $40.7 million
Injury report firm sets sights on sports betting, soccer and Series A funding
Podcast: Who wins now that the court has legalized sports betting in the U.S.?
Supreme Court opens the door to widespread sports betting
Sports betting legal and widespread worldwide