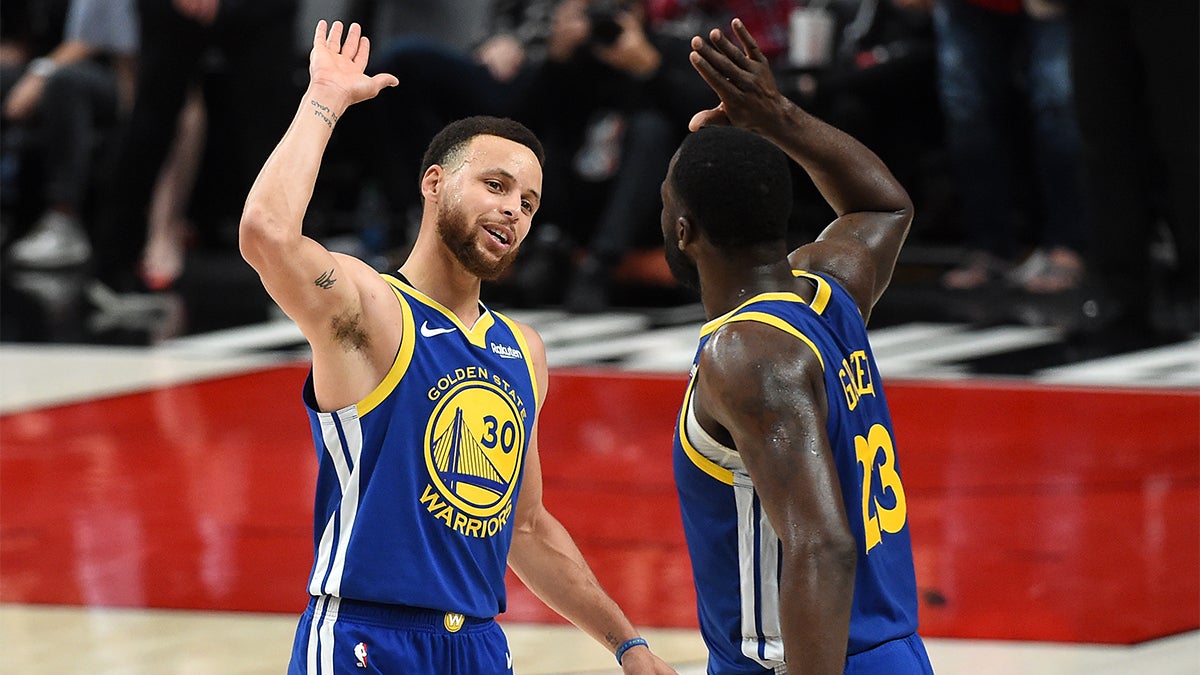 When the Golden State Warriors completed a sweep of the Portland Trail Blazers in the NBA's Western Conference finals, it secured a fifth straight NBA Finals berth for the franchise. With the 119-117 overtime win in the fourth game of the series, the Warriors accomplished something last done in 1966, when the Boston Celtics qualified for a 10th consecutive Finals.


The Warriors' game offers more depth than many realize. The team's star players are easily recognizable and are obvious keys to success. But an organization-wide commitment to scientific and statistical breakthroughs has them four wins away from a special achievement — a third straight NBA championship.
The Warriors have created a sports dynasty via:
Knocking down open shots

Controlling games with shooting and pace of play

Generating assists on baskets as often as possible

Embracing sleep science

Cultivating sharp mental acuity
The Warriors' offensive excellence was presaged by principles instilled before coach Steve Kerr arrived in 2014. A research paper presented at the 2014 MIT Sloan Sports Analytics Conference showed how the NBA's SportVU arena camera setup was able to track how often open shots were created — open shots lead to a greater chance of a made basket. During the 2012-13 season, the Warriors made 43 percent of 3-pointers attempted with a defender 6 feet or farther away and an arguably more-impressive 40 percent of 3-pointers with a defender closer than 6 feet.
Star point guard Stephen Curry's prowess from 3-point range — he holds the NBA's single-season 3-pointer record with 402 made — is the clearest signal of how the Warriors have altered offensive thinking. The Warriors have finished with the league's best 3-point shooting percentage three times in the past five seasons, placing third on the other two occasions. They rank as the league's most efficient offensive team since 2014 and have led the NBA in true shooting percentage — the measure of all 2-point field goals, 3-point field goals and free throws made compared to attempts — in each season. The league as a whole has seen a spike in 3-point attempts and fast-paced offenses while relying less on centers and forwards, who traditionally do not shoot well from long range.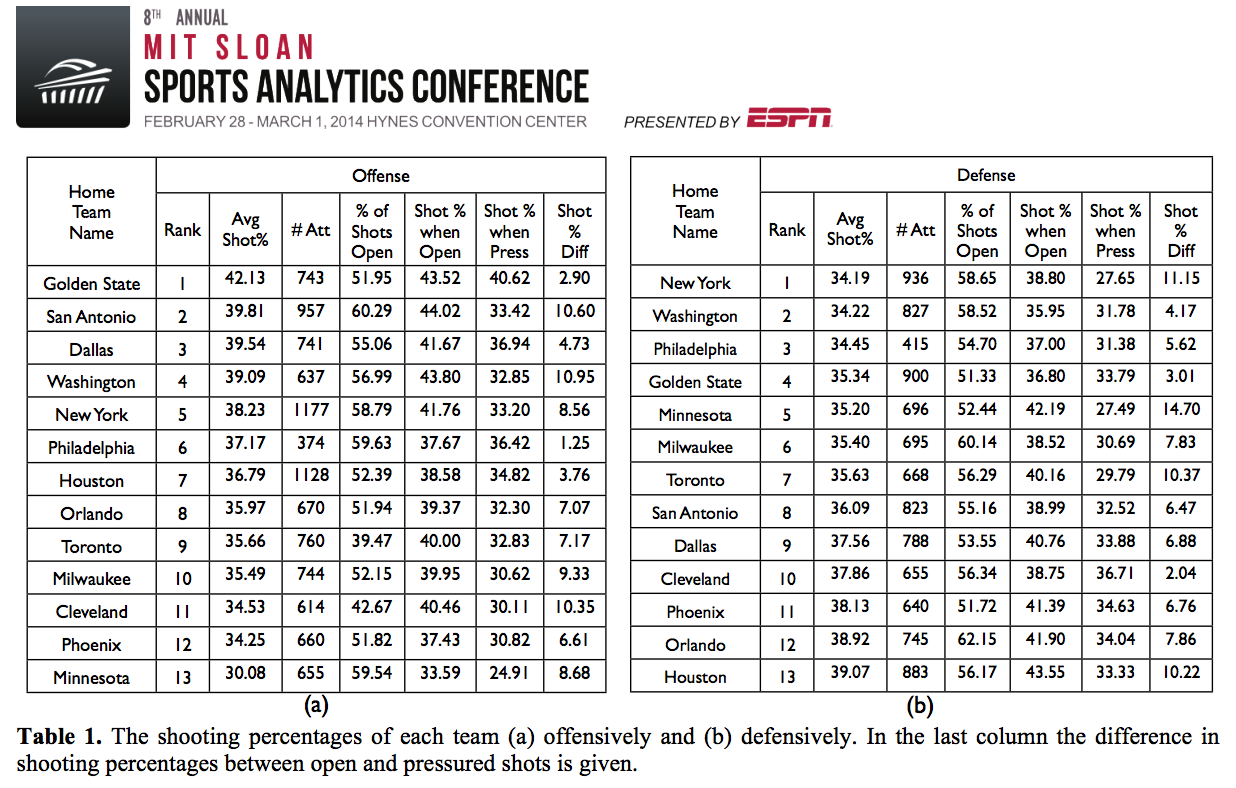 Kerr — who won three championships with another dynasty, the Chicago Bulls of the late 1990s — has guided a team with five All-Stars on its roster to three championships in four years. With star scorers Curry, Kevin Durant and Klay Thompson, the Warriors have won at least 57 regular season games in each of the past five seasons and set the league's single-season wins record in 2015-16.
A 2017 study by three University of California, Berkeley, researchers published between Golden State's second and third championships underscored how the Warriors' top scorers control games, and how they disprove further a long-held theory about streakiness in NBA shooting.
Curry, Durant and Thompson have formed part of the Warriors' core during their run and all are regarded as expert shooters. Curry, in particular, is regarded in many circles as the most influential — if not the greatest — shooter in NBA history. In a given game, commentators may identify one member (or more) of that trio as having a "hot hand" — "an abnormally high probability of making a shot, given a string of hits."
The study's results draw upon the conclusions of research conducted in 1985 and published in the journal Cognitive Psychology. That study's authors stated hot streaks are not especially out of the ordinary, even though the perception may say otherwise. Curry, Durant and Thompson are ultimately very consistent and skilled shooters who have been honored as such: Curry with two Most Valuable Player awards, Durant with two Finals MVP awards and Thompson with multiple All-Star selections.
In addition, the ball and player movement introduced by Kerr's staff has contributed to the team's assist rate. In each season since 2015-16, at least 66.9 percent of Golden State's regular-season field goals have come with an assist, and at least 62 percent of its playoff baskets have been directly set up by a teammate's pass. No team in the league scores more points off screens  — in which a teammate blocks a defender's movement to create space for a shooter. The Warriors are among the league leaders in passes per game and have ranked near the top in offensive rating — points scored per 100 possessions, representing approximately a full game — since the 2014-15 season.
Teams with this kind of "sustained competitive advantage" are rare in sport. The term "dynasty" denotes a team that won at a high rate for a number of years and claimed multiple championships in that time.
The Phil Jackson-coached Bulls set the tone for NBA offenses in the 1990s thanks to the complex triangle offense, which was run to perfection by Hall of Famers Michael Jordan and Scottie Pippen. Jackson won more championships with the Los Angeles Lakers by running this offense with Kobe Bryant and Shaquille O'Neal. San Antonio Spurs coach Gregg Popovich has won five championships with stingy defense, a motion offense and reliable mid-range shooting. Kerr played for both coaches and has incorporated elements from each to build an attack that maximizes his shooter's talents and a positionally-sound defense led by forward Draymond Green, a former NBA Defensive Player of the Year.
Forward Andre Iguodala leads the Warriors' bench and his longevity has benefitted from the organization's adherence to the latest scientific principles. In 2011, an influential study led by Stanford University sleep disorder researchers Cheri Mah and Kenneth Mah reported evidence that "extended sleep beyond one's nightly habitual sleep" augmented athletic performance, reaction time and mood while reducing daytime sleepiness and fatigue. These factors led to the conclusion that "peak performance can only occur when an athlete's overall sleep and sleep habits are optimal."
In their study, conducted between 2005 and 2008, the researchers selected from a pool of 800 undergraduate student athletes at Stanford. Eleven student athletes culled from the men's basketball team maintained their sleep patterns for 2-4 weeks before increasing their average duration to a minimum of 10 hours for anywhere between five and seven weeks.  Subjects were encouraged to nap during the day if this duration could not be achieved.
Performance measures related specifically to basketball — sprints, free-throw shooting and 3-point shooting — were collected and analyzed following the team's routine afternoon practices. All three categories saw significant improvement with more sleep. Time to sprint completion improved nearly a second and shooting tests saw massive boosts, from an average of 7.9 made free throws out of 10 and 10.2 made 3s out of 15 to 8.8 and 11.6 respectively.
A crucial point was an athlete's mentality is key in both practices and games. An increase in a given athlete's total sleep time led to subjects reporting "improved self-perception of performance" in those situations.
Golden State has exhibited great mental strength in this postseason alone. In the Western Conference finals against the Trail Blazers, the Warriors rallied from deficits of 17, 18 and 17 points to win Games 2, 3 and 4, respectively, and complete the sweep. The final two games took place in Portland.
Teams with this kind of "sustained competitive advantage" are rare in sport. The term "dynasty" denotes a team that won at a high rate for a number of years and claimed multiple championships in that time. The New England Patriots' six championships since 2001 stand as a prime non-basketball example, as does UCLA men's basketball's seven consecutive championships between 1967 and 1973.
The Pittsburgh Steelers' dominance under coach Chuck Noll stood out to a bevy of researchers in "Sports and Organizational Studies: Exploring Synergy." The Steelers won 88 of 115 regular season games — 77 percent — between 1972 and 1979 and won four Super Bowls in that span. Noll's Steelers went 59-1 against teams with a record below .500 and went 29-26 against winning teams. By ringing up "small wins and doing the easy stuff," the Steelers maintained a strong competitive advantage throughout the 1970s — as the Bulls did with their six championships in the 1990s and the Warriors have in the 2010s.
A 2017 study by three University of California, Berkeley, researchers published between Golden State's second and third championships underscored how the Warriors' top scorers control games, and how they disprove further a long-held theory about streakiness in NBA shooting.
The ABC News-owned website FiveThirtyEight has its own metrics to determine how historic this Warriors run has been. The site, which blends sports blogging with statistical analysis, has produced a modified Elo rating system for usage with soccer, football and basketball teams.
Elo ratings were developed initially for chess players to measure a given individual's skill and likelihood to win a given matchup. Extrapolated to a team's scale, it is adjusted for each individual win or loss depending on factors such as margin of victory and home-court advantage.
FiveThirtyEight sets the baseline Elo rating at 1500, which equates to an average team — 41 wins and 41 losses over the six-month NBA regular season. The Warriors, however, are nearly off the charts. Their four-year average Elo from the 2014-15 season through 2017-18 was 1789, 44 points higher than the next-best team: the Jordan-led Bulls from 1995 through 1998.
Golden State gets a chance to make more history when the NBA Finals begin on May 30 against the Toronto Raptors. Through shrewd personnel moves and a dedication to pioneering research, the Warriors' players and staff can etch their names into the pantheon of North America's similarly-constructed great sporting dynasties — if they have not done so already.
Jeremy Beren is a senior sports journalism major at Arizona State University
Related Articles
Elite athletes using high tech tools to increase reaction time
Overlooked impact of sleep can be key for athlete's performance
Researcher says stress has long-term health impacts for coaches
Tags:
ABC News
,
analytics
,
Andre Iguodala
,
basketball
,
Berkeley
,
Boston Celtics
,
Cheri Mah
,
chess
,
Chuck Noll
,
Cognitive Psychology
,
culture
,
Draymond Green
,
dynasty
,
Golden State Warriors.
,
Gregg Popovich
,
journal
,
Kenneth Mah
,
Kevin Durant
,
Klay Thompson
,
Kobe Bryant
,
Michael Jordan
,
Milwaukee Bucks
,
MIT
,
MIT Sloan Sports Analytics Conference
,
Most Valuable Player
,
NBA
,
NBA finals
,
New England Patriots
,
NFL
,
Phil Jackson
,
Pittsburgh Steelers
,
Portland Trail Blazers
,
Research
,
Science
,
Scottie Pippen
,
Shaquille O'Neal
,
sleep
,
sport
,
sports
,
Stanford Cardinal
,
Stanford University
,
statistics
,
Stephen Curry
,
Steve Kerr
,
toronto raptors
,
UCLA Bruins
,
University of California