Culture
Business
Pac-12 finding ready audience for sport halfway around the world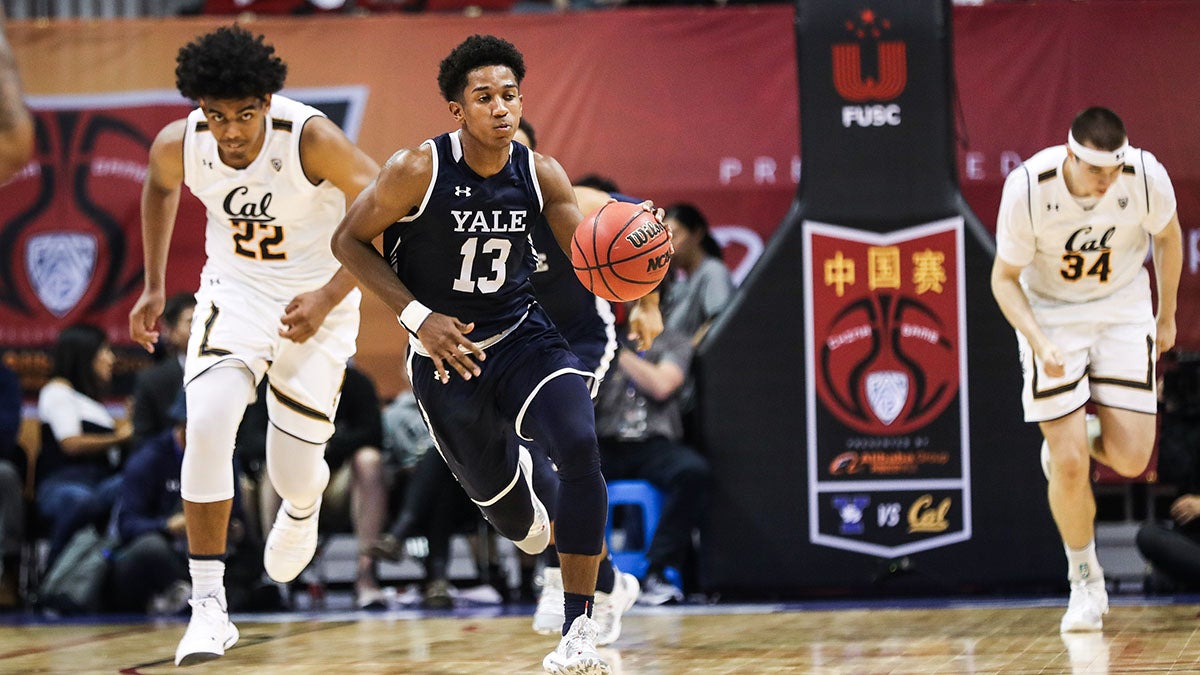 Not all road trips are created equal.
Certainly not when it involves a team traveling thousands of miles to another country to compete as many colleges and universities are emphasizing expanding their global footprint, utilizing an athletic event as a means to that end.


While collegiate athletic programs have competed in a number of countries, China has become a popular destination with the Pac-12 leading the way.
Under commissioner Larry Scott, the conference has made it a priority to showcase its athletic programs overseas with an emphasis on Asia. Shortly after he was named commissioner in 2009, Scott met with university presidents about exploring the use of athletics as the springboard to achieve that goal.
Scott had experience in the area of global growth. After a career playing tennis on the ATP circuit, he served as chairman and CEO of the Women's Tennis Association and led the WTA during a period of considerable growth globally, including many events in China.
"All of the (conference presidents) were talking about their engagement internationally and specifically in Asia," said the conference's deputy commissioner, Jamie Zaninovich. "(Scott) sort of pitched the presidents on the idea that since we have an interest in extending relationships into Asia, why don't we use athletics as a way to leverage that and start working in China on some partnerships to bring teams there."
That's exactly what happened. In 2010, the Pac-12 reached an agreement with Federation University Sport China. Part of China's Ministry of Education, FUSC, which attempts to promote and grow athletics at the university level in China, can be likened to the NCAA. Over the next couple of years teams from Arizona State, UCLA and Cal would travel to China to participate in exhibitions.
From those experiences came more growth, including a landmark event in 2015 in which Washington and Texas played a regular-season men's basketball game in Shanghai. It was the first of what has become an annual event with Cal and Yale playing earlier this season and Arizona State and Colorado scheduled to play next season.
The 2015 game's presenting sponsor was Alibaba Group, which is a corporate partner of the Pac-12 and as such has become synonymous with the annual game. Based in Hangzhou, China, the e-commerce behemoth has an office in the conference's home city of San Francisco. One of its founders, Joe Tsai, owns 49 percent of the Brooklyn Nets, and, as Zaninovich put it, is "an ardent basketball fan and college sports fan."
Tsai also owns the San Diego Seals of the National Lacrosse League.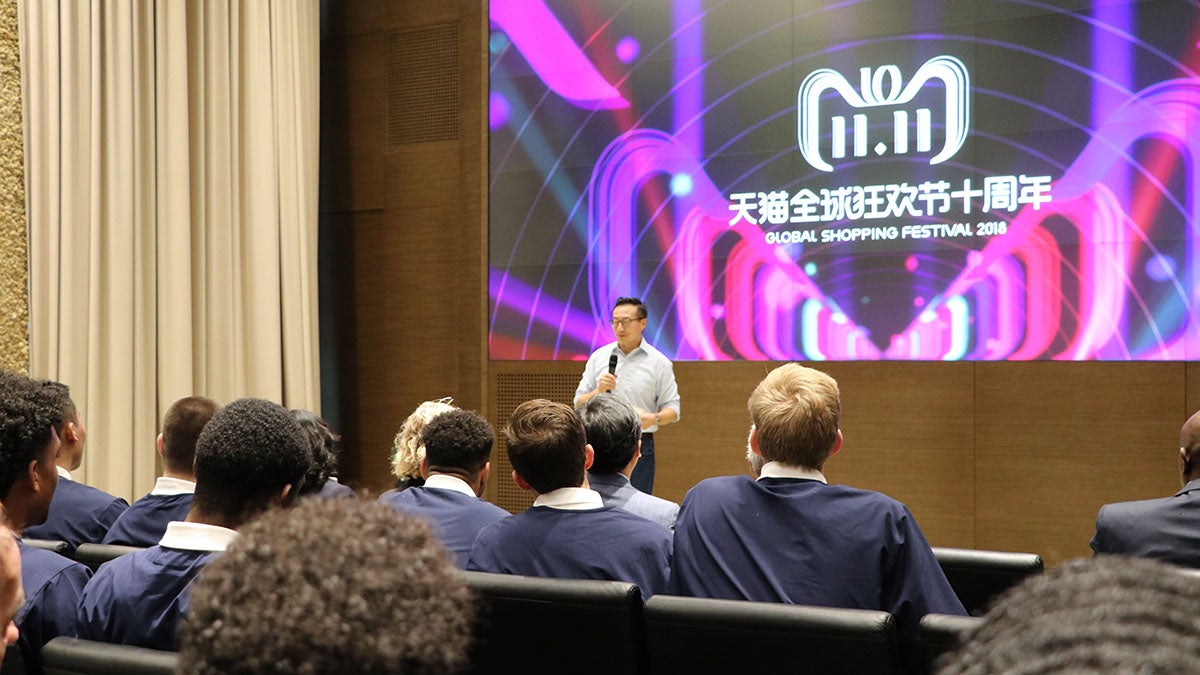 Through the conference media company, the Pac-12 Networks, 250 athletic events each year can be distributed internationally. A key component of the relationship between Alibaba Group and the Pac-12 is the conference has an agreement with the former's digital streaming company, AliSports, which distributes Pac-12 Networks content throughout China.
The conference's international initiative is known as Pac-12 Global, which has among its goals promoting goodwill and showcasing the conference's member institutions.
"The idea is to create meaningful and hopefully transformational experiences for our student-athletes internationally and, secondly, to use athletics to help promote our universities and their brand internationally," said Zaninovich. "China is a huge market and college athletics is very new to them. We are committed to doing the annual (basketball game), and we hope we can grow our brand there in a meaningful way that will help accrue benefits for the student-athletes that are a part of these trips as well as the universities themselves who, more broadly, see China as such an important part of their future in so many ways."
One of the benefits for the student-athletes is experiencing a different culture. To that extent, Oregon's women's soccer program traveled to China in June 2017 to play a team in Beijing of university all-stars.
China is not exactly a power in soccer, but that was the point.
"I think if we really wanted to dial into the soccer experience, we would go to Europe and visit some of the professional league teams and train at those facilities," Ducks coach Kat Mertz said. "That would be great. But for us I thought it was a really unique opportunity to take our players out of their comfort level and experience a whole different culture. It was a cultural experience you won't find anywhere else."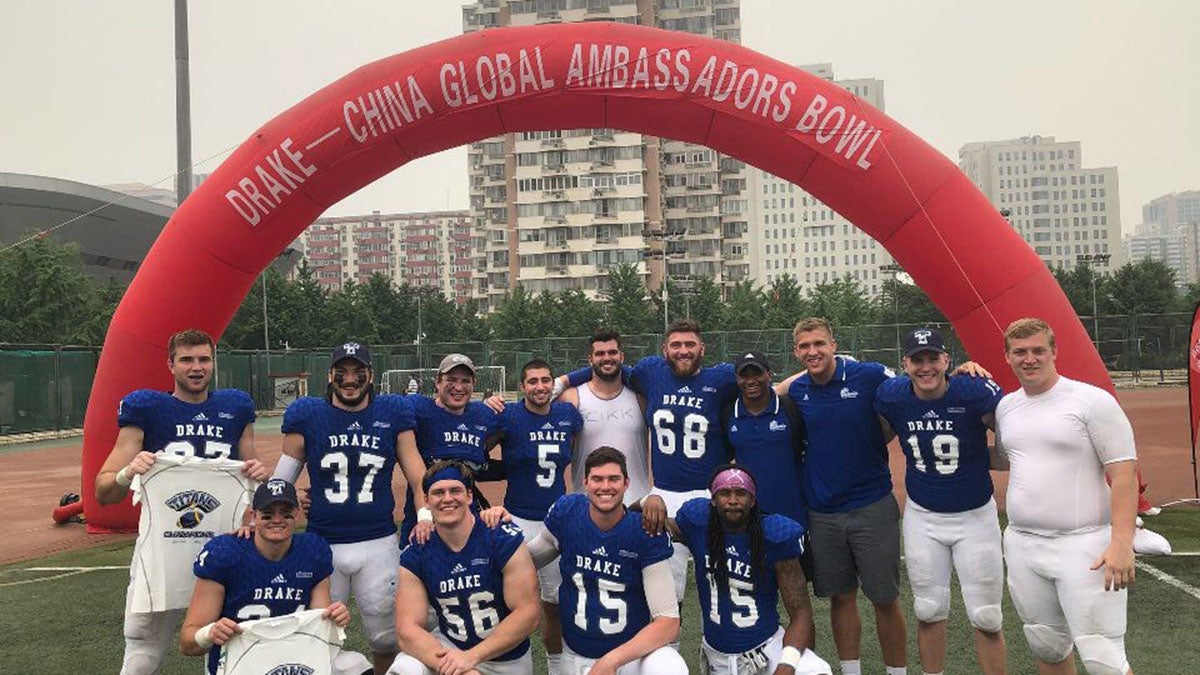 Yale seemed like a natural Pac-12 opponent. After all, Tsai played lacrosse at the Ivy League institution, where he graduated in 1986.
"If you look at the past competition that has been involved, (the Pac-12) really looks for premier athletic and academic institutions," said Yale associate athletic director Jessica Chrabaszcz. "So, I think for them Yale was a great partner. Also, the connection with Joe Tsai. He is somebody the Pac-12 would want to work with because of Joe's connection with Yale and the Pac-12's connection with Alibaba. It was a perfect merger of all three enterprises, and they were able to work as one."
Team members visited the Alibaba headquarters where they met with Tsai, who Chrabaszcz said spoke to them about the e-commerce industry and China's economy.
"For me, what really stood out about that was meeting Joe Tsai," said Bulldogs guard Alex Copeland. "Here is this guy, so influential and an accomplished person, he took the time to meet us and sit down and talk to us. He was extremely down to earth and humble."
Basketball, which is extremely popular in China, served as a platform for a much larger experience.
"One of the things that made this trip so important was there was a sense we were there for something bigger than ourselves," Copeland said. "When we met with Joe Tsai we talked about U.S. and China relations and things like that. It definitely felt a little bigger than just a basketball game, which was really cool."
Drake University's football team gained that sense as well when it traveled from Iowa to Beijing in May to play a team of all-stars in the Drake-China Global Ambassadors Bowl.
The U.S. ambassador to China is former Iowa Gov. Terry Branstad, who attended the game and played host to the team during a critical period that included negotiations for the denuclearization of the Korean Peninsula and on free and fair trade with China.
"During those critical times he spent 10 hours with us over the course of a couple of days and our students had the opportunity to represent the United States, to represent the state of Iowa and our university at a time when tension between China and the U.S. was palpable," said Matthew Mitchell, associate professor of international business and strategy at Drake. "Our students stepped into that atmosphere and represented themselves honorably and just really drove the citizen diplomacy by serving as fantastic citizen diplomats."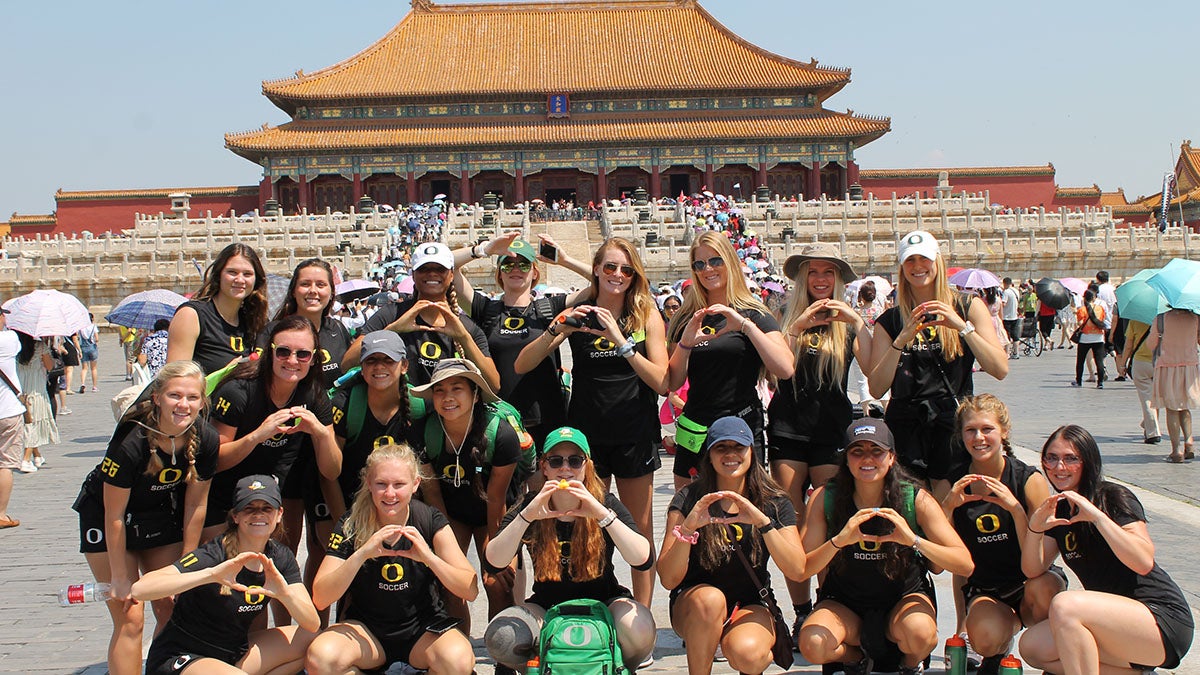 Mitchell was one of two professors who accompanied the team to teach a three-credit globalization class (China in the Global Economy).
International trips involving the football team at Drake are not something new. The Bulldogs traveled to Africa in 2011.
"There was interest in having an impactful trip again for the football team," said Megan Franklin, Drake's senior associate athletic director and senior woman administrator. "They settled on China as far as having another impactful opportunity for our student-athletes. Also, for diplomacy. Human interaction with each other on a level that isn't 'political.'"
Rick Fox went on both trips, first as an assistant coach and this year as the coach of the Bulldogs.
"Our football program is focused on developing what we call 'Impact Men,'" Fox said. "They leave Drake and go on and make a difference in our world. Drake offers an extremely high-quality education, and we get to play the game of football at a high level and all the challenges and experiences that go with that. So, the China trip, just like the Africa trip in that it fit very well within that framework and those objectives for our players. It was a powerful experience in a lot of ways."
The University of Pennsylvania will make a similar football trip in March. During spring break the team will travel to Shanghai for what will be the Penn-China Global Ambassadors Bowl.
The Ivy League institution's desire is to enhance the athletics program's brand through international partnerships. Penn's Wharton School of Business has cooperation in China through the Penn Wharton China Center, which opened in Beijing in 2015.
"The student-athlete experience is at the core of our strategic priorities, and we are confident that this visit to China will broaden the cultural awareness of our students and create impactful, lifelong memories," said athletic director Grace Calhoun in a statement released by the school upon announcing the trip in October.
Arizona State, which as part of the Pac-12's global outreach plays host to coaches from China for a three-month period to expose and educate them to the intricacies of operating a major-college athletic program, has had impactful international trips with another scheduled for 2019.
The Pac-12 announced the Sun Devils' men's basketball team will play conference member Colorado in November 2019 in the fifth edition of the conference's Pac-12 China Game presented by Alibaba.
The matchup is noteworthy in that, not only is it a regular-season game, but a conference matchup. Previous games were non-conference.
"That's pretty exciting because we are still, to date, the only American sports league, college or professional, that has played a regular-season game in mainland China," said Zaninovich. "All the other leagues have only been exhibition games. It's a big undertaking and a huge opportunity for us."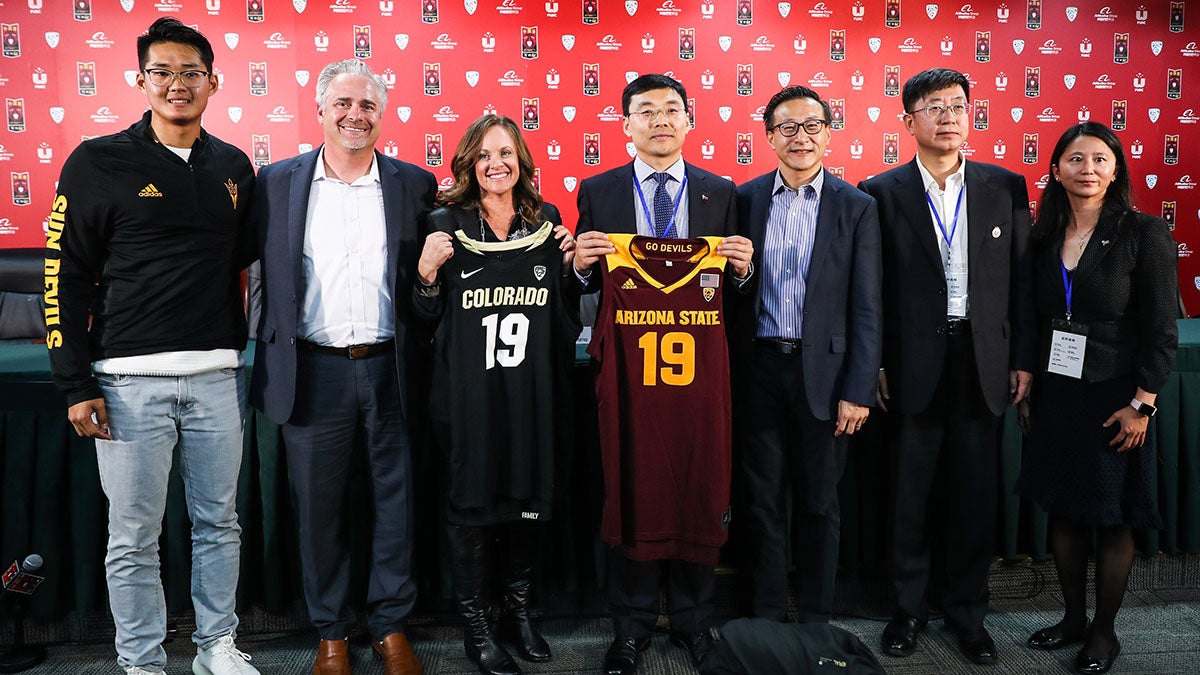 Including those taking graduate courses, Arizona State has 3,500 Chinese students. While the game will take place in Shanghai, the week of the game will feature a number of on-campus activities designed to engage those students. Likewise, there will be engagement opportunities for China-based alumni and those who attend ASU's W.P. Carey School of Business in Shanghai.
"We think it is important to honor the students who make a commitment and come from thousands of miles away and choose ASU as their educational home," Kent Hopkins said. Hopkins is the vice-president of enrollment management and services and is responsible for the school's enrollment strategy, including that involving international students. "We think it is very important to honor alumni who are now back in their home country. With this game, their university will be playing a basketball game in their home country. What can we do to honor them while we are there?"
Sure, a basketball game will be played. Many other things are in play as well.
"We know the core of their trip is a basketball game," Hopkins said. "But why not take advantage of the basketball program being there with university programming that focuses on the 3,500 students we have from China enrolled here at ASU?"
Such engagement is one of many reasons why U.S. colleges and universities will likely continue to schedule athletic events in China.
Tom Layberger has spent more than 25 years as a writer, editor and web producer for various media outlets. Tom, who resides in Tampa, is a graduate of the University of South Florida. Follow him on Twitter @TomLay810
Tags:
Alibaba Group
,
AliSports
,
Arizona State University
,
basketball
,
Brooklyn Nets
,
Cal
,
China
,
Colorado
,
Drake University
,
Drake-China Global Ambassadors Bowl
,
Ducks
,
Federation University Sport China
,
football
,
FUSC
,
Jamie Zaninovich
,
Joe Tsai
,
Kat Mertz
,
Larry Scott
,
Ministry of Education
,
National Lacrosse League
,
Oregon
,
Pac-12
,
Pac-12 Conference
,
Pac-12 Global
,
Pac-12 Networks
,
Penn Wharton China Center
,
Penn Wharton School of Business
,
San Diego Seals
,
Shanghai
,
soccer
,
Sun Devils
,
Texas
,
UCLA
,
W.P. Carey School of Business
,
Washington
,
WTA
,
Yale